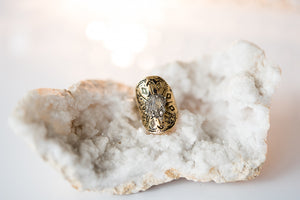 Moonstone Ring
Sale price Price $31.99 Regular price
We absolutely LOVE this ring! This moonstone ring is crafted from brass that has been treated with a rich black patina to enhance the appearance of the stamped design.
Each ring has been enhanced with hand crushed raw pyrite creating a visual delight with eye catching organic sparkle around the white moonstone center. This ring is lead and nickel free.
Raw pyrite inspires creativity, protects against harm or danger as well as enhances assertive energies.

Moonstone is known as a protection stone with calming properties from emotional stress. It is believed to bring success and good fortune in love and business. Moonstone has a unique milky white color in appearance with a subtle blue flash that can vary from piece to piece.
The base size for the ring is 7.5, and can easily adjust to larger sizes by extending outwards or smaller sizes by tightening the adjustment a bit.
NOTE: it is normal for some flecks of pyrite to flake off over time with normal wear and tear. Listing is not for this exact ring but one of same design. Mother Nature rarely duplicates itself so crushed pyrite may vary slightly from ring in the picture.